The 1factory Story: Our Commitment to Manufacturing Excellence
Our Origin
1factory was founded based on the early career experience of our CEO. He observed that even the most sophisticated manufacturers lacked tools for routine quality control tasks. Where tools were present, they were unfortunately far too difficult for factory employees to use, and were viewed as a burden. Quality problems routinely disrupted manufacturing, resulted in lost capacity, and often escaped detection with harmful impact to customers. So he set out to build Easy-to-Use yet Powerful Quality Control Software.
The Problem we Solve
Over the last decade, every company has seen a dramatic increase in the number of product variants, parts and features that it needs to manage. During the same period, a desire to reduce cost and improve capital efficiency has transformed the supporting supply chain from single-tiered and local, to multi-tiered and global. Quality Engineers now have one of the hardest jobs. On one hand, they are up against more - more features, more process complexity, more parts, more suppliers, in more locations. On the other hand, they are trying for less - shorter cycle times, lower costs, less waste, with fewer defects. Unfortunately, their IT systems haven't kept up with increased product and supply chain complexity. They are trying to solve a 21st century problem with 20th century tools.
The 1factory Solution
1factory can help. 1factory enables continual collection, analysis and exchange of quality control data within the factory and across the supply chain. Our platform helps manufacturers control all aspects of product quality from first articles and process capability analysis through finished product inspection and root cause analysis. At 1factory, we are focused on making manufacturing and quality control team's jobs easier by solving problems in four areas: data, analysis, access, and collaboration.
Data: Everybody has data, tons of it, that isn't the problem. The problem is it's everywhere, scattered across your factory and your supply chain, in a hundred different formats, devices, or worse yet, on paper. 1factory makes it incredibly simple to collect data and link it directly to blueprints, balloons, batches, lots, gage identifiers, operators, and almost any other identifiers. Digital gage interfaces and barcode readers practically eliminate data entry errors. No more isolated, "islands of data". Instead, you get data in the full context of its use.
Analysis: Statistical analysis is not trivial. It's difficult to train people, and it's easy to make mistakes. Especially, when you have to analyze data for hundreds of parts and thousands of features every week. 1factory automates the statistical analysis so that you can focus on the critical task of process improvement rather than wasting your time on spreadsheets and calculations. Our powerful analytics help guide your improvement efforts.
Access: Let's face it, globally distributed, multi-tier supply chains wreak havoc on project communications. But no more. With 1factory all your partners share a single, unified view of the project, backed by a high-capacity secure "cloud" database, accessible 24 x 7 to only you and your suppliers. No more emailing spreadsheets or sharing documents. Data is instantly available to those who need it, eliminating delays, and speeding up decison making.
Collaboration: Quality problems can't be solved in isolation. You need the right people, focused on the right issue, at the right time, no matter where they are in the world. That's easy with 1factory. A built-in sharing facility provides secure access to specification and inspection data. With simple, vivid visuals, there's a common understanding of the problem and what the data
Return on Investment
1factory aligns quality control expectations within groups and across companies, automates statistical calculations and reporting, and speeds-up root-cause analysis, allowing you to get your job done faster. Starting-up is easy, and in under one hour, you will be able to create a plan, collect data, review the analysis, and share with a customer or supplier. Unlike traditional software, where ROI may not be achieved for years, 1factory delivers an ROI within weeks. Contact us for a demo and get started today.
Leadership Team
Nipun Girotra, CEO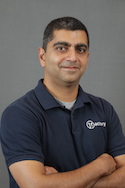 Nipun Girotra is currently CEO of 1factory. Prior to founding 1factory, Nipun managed business unit operations at Novellus Systems, Inc. Nipun's previous career experiences include multiple roles in manufacturing and operations management at Novellus Systems and Applied Materials. Nipun holds a Bachelors degree in Mechanical Engineering, a Masters degree in Industrial Engineering, and an MBA from The Wharton School at the University of Pennsylvania.
Oleg Nickolayev,
CTO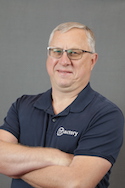 Oleg Nickolayev is currently Chief Technology Officer at 1factory. Oleg is a technical expert and entrepreneur with extensive experience in all tiers of web application development, complex data integration, and big data analytics. Prior to joining 1factory, Oleg worked for various companies including Oracle Corporation and Elementum SCM. Oleg holds an MS in Engineering from Dartmouth, and an MS in Computer Science from University of Illinois at Urbana-Champaign.
Jon Facer, SMB Manager
Jon Facer is currently Business Unit Manager for the Small & Medium Business Market Segment. Jon has experience in data analytics, business development, and client relations. Prior to joining 1factory, Jon held roles at Nissan North America and also worked in China helping Saas companies develop partnerships and reach clients. Jon holds a B.S. in Information Systems from Brigham Young Marriott School of Business.
John Flaig, Ph.D.,
Analytics Advisor

John J. Flaig, Ph.D. is a Fellow of the American Society for Quality (ASQ). He is Chair of the ASQ's Statistics and Reliability group and was previously Program Chair for the ASQ's Annual Quality Conference. His industry experience spans more than forty years, and includes roles at Apple, Applied Materials, and Hewlett-Packard. Dr. Flaig has published over twenty peer reviewed research papers in areas such as process capability analysis, adaptive control charts, factor effects analysis, optimal resource allocation, and supplier management.
Dr. Flaig was formerly a member of the Editorial Board of Quality Engineering, a journal of the ASQ. He holds a doctorate in engineering and technology management from California Southern University, a master's degree in mathematics from the University of California, and a bachelor's degree majoring in mathematics and economics from California State Polytechnic University. Dr. Flaig received the 2012 Distinguished Alumnus Award from Cal Poly's College of Science.