Gage Calibration Management.
Simplify gage calibration management. Ensure gages are calibrated before data entry begins. Integrate gage calibration and inspection records to always ensure compliance.
ELIMINATE COMPLEXITY
EASY TO USE
"One of the most useful features is the Master Gage library, this can set up reminders for calibration, calibration history, serial numbers, attachments and practically anything to manage complex environments like ours with many hand gauges, tools and equipment. It gives you easy to understand color coded warnings to alert you that some of your gages and equipment are due for calibration. Plus it has built-in sorting capabilities to easily find the record that you are looking for."
MANAGE GAGE CALIBRATION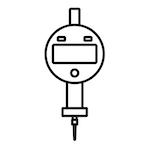 Setup in Minutes
Load indiviual gages using the web-form, or load thousands of gages in a few seconds using our standard excel import template. Define Make, Model, Serial Number, Units, Resolution, and Accuracy. Use powerful search to find gages.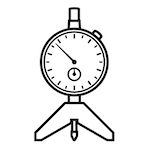 Simplify Calibration Management
See which gages are in calibration, or coming up for calibration in the next 30 days, or out-of-calibration. Manage calibration records, including before and after conditions, action taken, and associated certs.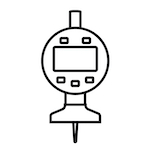 Transact & Track Gages
Assign gages to tool-crib and factory-floor storage locations. Issue gages by opertaion, job number, or user. Easily track, find and recall gages when needed.
EASY TO USE, LIGHTNING FAST
INTUITIVE DESIGN
1factory is designed for the front-line of quality control with design inputs and ideas from our users. 1factory's intuitive navigation and best-in-class screen-designs make training a breeze. Training and full-deployment takes under two hours with no disruption to operations.
POWERFUL ENGINEERING
1factory is engineered to be lightning-fast. We serve customers all over the world 24 hours a day, 7 seven days a week, 365 days a year. Our customers in United States, Mexico, Canada, Israel, China, Europe, India, all enjoy lightning-fast data collection and powerful real-time analytics.
RELIABLE, SCALABLE AND SECURE
SECURITY
1factory is hosted on AWS GovCloud. The AWS GovCloud service is an isolated Amazon region designed to host sensitive data and regulated workloads, including International Traffic in Arms Regulations (ITAR) data.
Data is ecrypted during transfer using TLS 1.2. The connection is encrypted and authenticated using AES_128_GCM, and uses ECDHE_RSA as the key exchange mechanism. In addition, we use encrypted block storage at the hardware level to protect data and files at rest.
1factory maintains a SOC2 Type 1 certification, and a copy is availble upon request.
RELIABILITY AND UPTIME
1factory has been engineered to be highly reliable, scalable and available. Over 20 million parts have been inspected using 1factory. The system has had an uptime of 99.9999% for over 5 years.
We use a third-party service to monitor system uptime, and our customers can view our uptime and availability metrics in real time.
1factory backs-up database with a daily snapshot. Files are stored on redundant hard-drives and backed up via daily snapshots.
SERVING LEADING MANUFACTURERS ACROSS THE WORLD