ALL THE FEATURES YOU NEED
01
PDF Drawing Ballooning
1factory automatically reads and identifies features on your drawing. With simple point and click actions, you can add a balloon, and capture the dimension, tolerance, & zone to create a quality control plan.
Automatic Drawing Reading
GD&T Capture
Notes Capture
Insert, Delete, Renumber Balloons
Resize Balloons
Replace Drawing
02
Quality Control Plans
Quickly create inspection plans from PDF drawings or by importing spreadsheets. Define Inspection Methods and Sampling Rules by Inspection type (First Article, Incoming, In-Process and Finished Goods Inspections).
Change History
Version Control
Group-Edit Multiple Features
Default/Block Tolerance Capture
Feature Cloning
Variable (Numeric), Attribute (Pass/Fail), Calculated Specs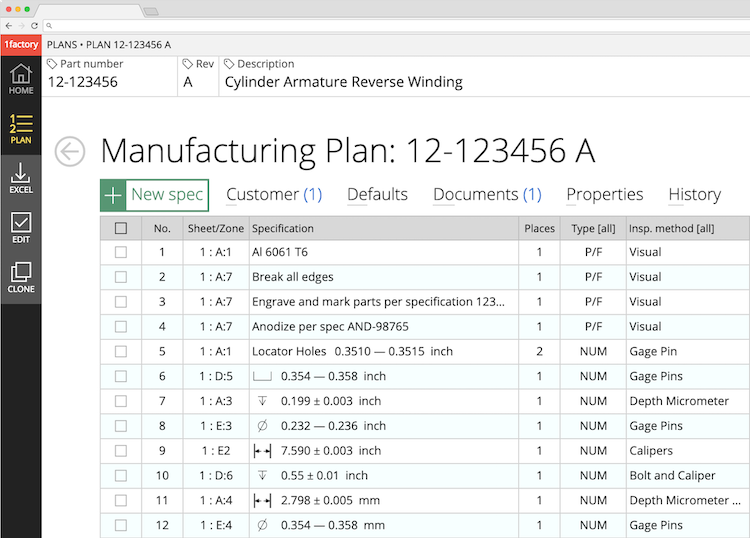 03
First Article, AS9102
1factory speeds-up the First Article Inspection process by automating drawing ballooning, CMM data collection, and report creation. FAI reports can be created in customer or industry standard formats (e.g. AS9102 format). FAI Data can be easily retrieved via our powerful search.
CMM Data Import
Automated Reports
AS9102, Standard Formats
FAI Data Management, Search & Retrieval
04
CMM Data Import
1factory supports data imports from various digital gages, CMMs, in-circuit testers, test-fixtures, along with data uploads from spreadsheets (.xlsx, .csv, .txt etc.). Capturing data directly from inspection or test equipment eliminates data-entry errors, minimizes the possibility of incomplete or missed inspections, and frees-up a significant amount of QC inspector time.
Zeiss Calypso
Mituoyo
CMM Manager
PC DMIS
Keyence
MicroVu
Oasis
Starrett
Cirrus
Open/Rational DMIS
Aberlink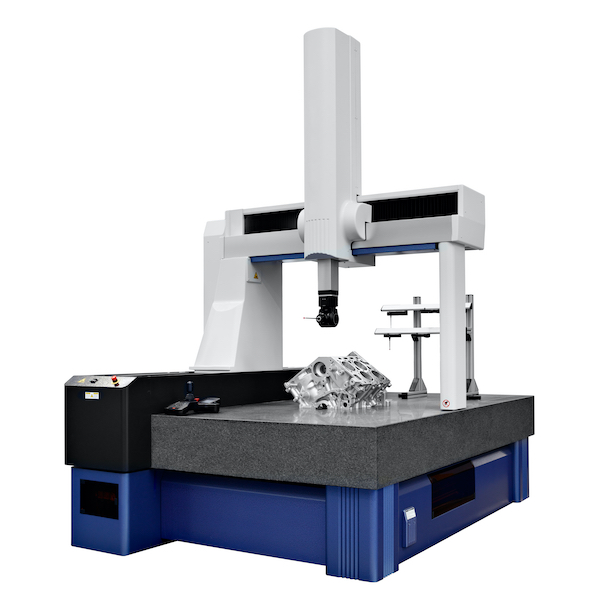 05
Final Inspection
Inspect finished parts and products. Capture visual and dimensional checks, and associate raw material and outside processing certificates of conformance. Generate Certificate of Conformance (CoC) and final inspection reports for customers in various formats. Sample parameters by selecting Sampling Tables and AQL Levels. Enjoy automated sample size calculation.
C=0
ANSI Z1.4 Level I and II
MIL STD 1916 Variable and Attribute
Outside Processing Certificates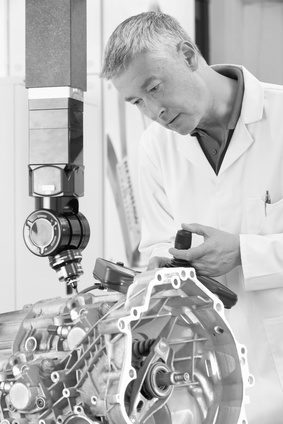 06
In-Process Inspection
Measure part parameters at the correct step in the manufacturing process. Deploy simple visual controls so that factory technicians can ensure product is free of defects. Filter parameters by Production Stage, Operation Number, Inspection Method, and Sampling Rule to group measurements and speed-up data entry. Optimize your inspections with three convenient data-entry screen screen layouts:
Feature View
Parameter View
Spreadsheet View
07
Process Capability
1factory automatically calculates commonly used Process Capability metrics (Cp, Cpk) and Process Performance metrics (Pp, Ppk). 1factory supports calculations for both normally distributed as well as non-normal data (using non-parametric estimates i.e. the median, 99.5th percentile p(0.995), and the 0.5th percentile values p(.005) to calculate Cp, Cpk for non-normal data.
Unilateral and Bilateral Tolerances
Cp, Cpk
Pp, Ppk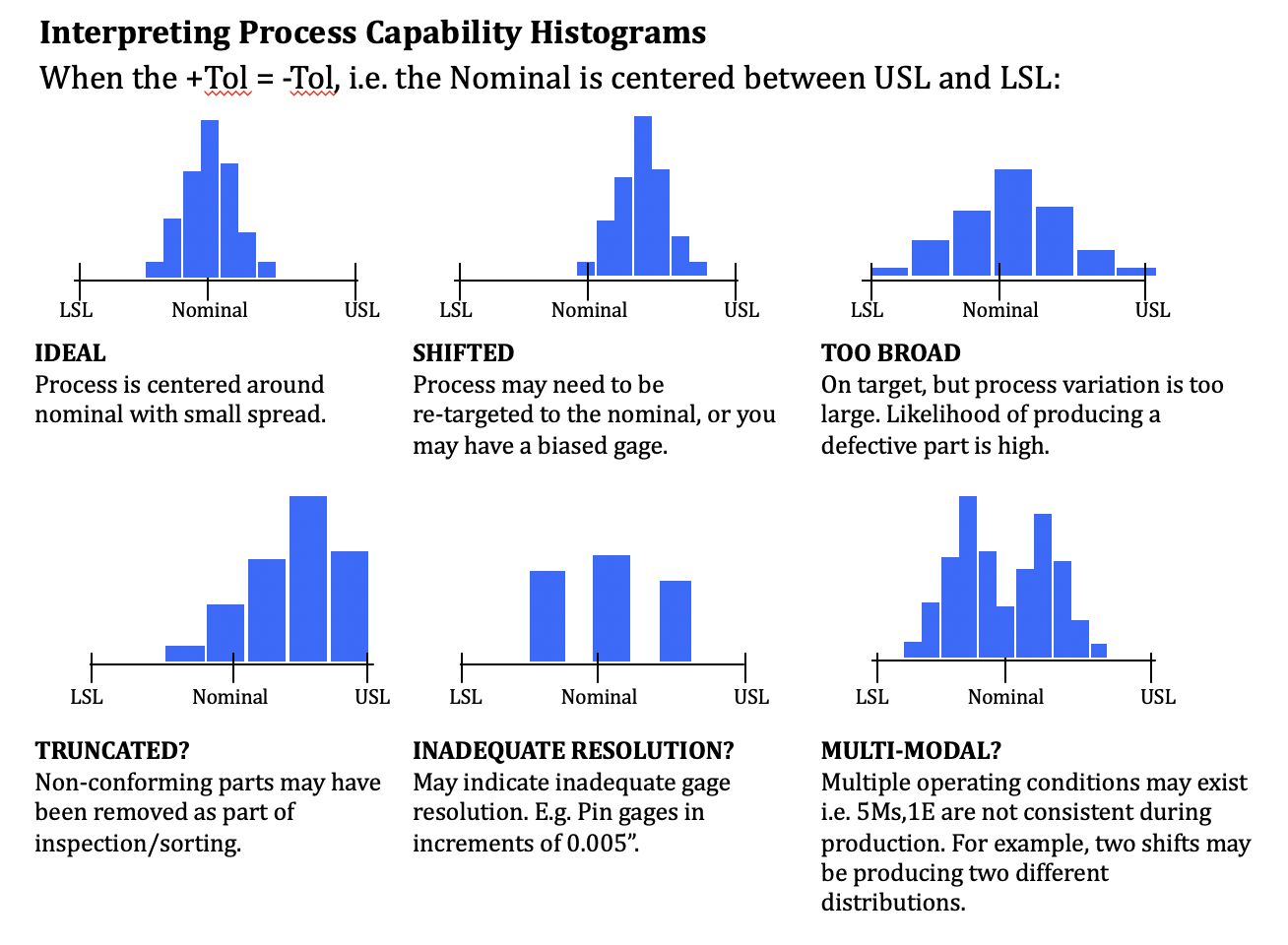 08
SPC
Use individuals charts and Western Electric Rules to control manufacturing processes. Detect trends and anomalies quickly at the point of manufacture.
Run Chart
Histogram
Western Electric Rules
Upper & Lower Control Limits (UCL, LCL)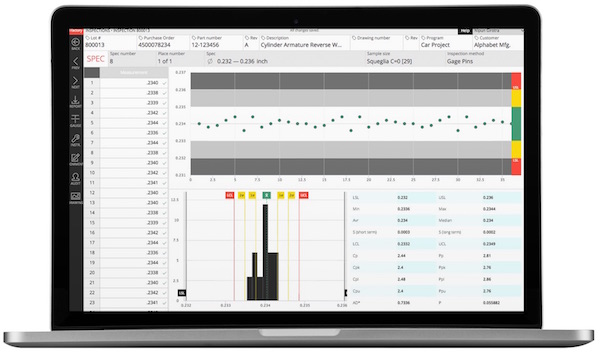 09
Incoming Inspection
Inspect incoming components and ingredients. Capture visual and dimensional checks, and associate raw material and outside processing certificates of conformance. Sample parameters by selecting Sampling Tables and AQL Levels. Enjoy automated sample size calculation.
C=0
ANSI Z1.4 Level I and II
MIL STD 1916 Variable and Attribute
Raw Material Certificates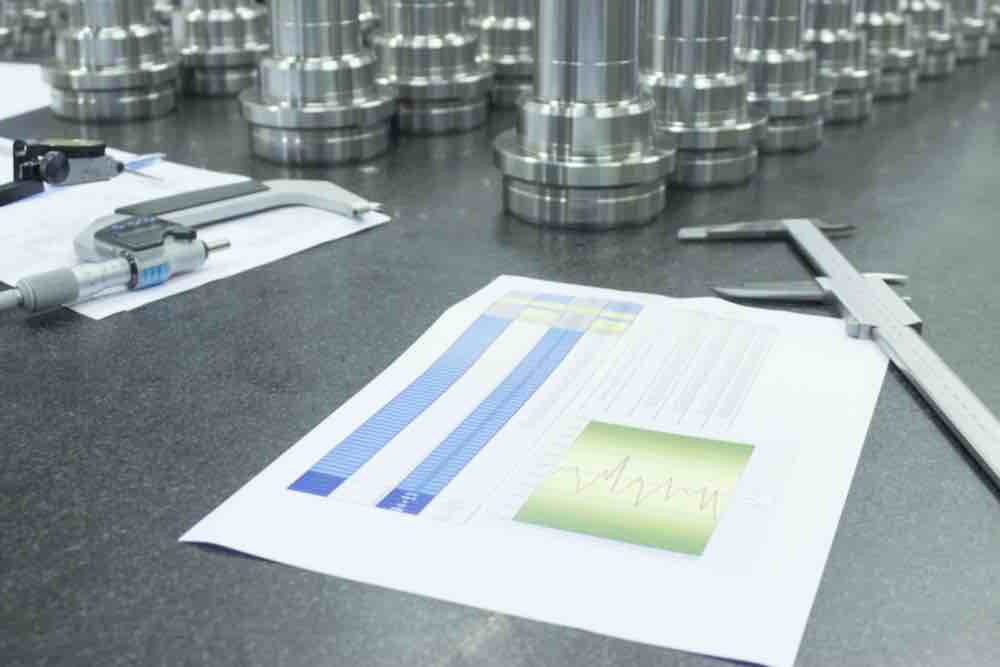 10
Unit Conversion (mm, inch)
1factory provides automated unit conversion from mm to inch and from inch to mm. So if you receive customer drawings in metric (mm) units, you can now balloon your drawing and create your QC Plan in mm, but yet collect all your data in inches, and finally output reports for your customers in mm. With the automated units conversion, you can eliminate calculation errors, and save many man-hours of work
11
Tabulated Parts
If your drawing includes a table of configurations or variants, you create a single QC Plan for the base part number, and then load the configurations into 1factory's Table of Sizes. 1factory automatically generates the inspection plan for each configuration. This is ideal for product families where each product configuration may have different parameter values such as lengths, diameters, colors, plating types etc.
Default Tolerances at the feature and plan level
Numeric or Variable Specs
Pass/Fail or Attribute Specs
Number of Places
12
Defect Risk Detection
1factory automatically calculates in-spec% i.e. calculates production yield, and flags high-risk batches and features. You can instantly identify batches that need attention, and then drill-down to see the run-chart and histograms for the high-risk fetaures.
In-Spec % and Yields
High-Risk Batches
High-Risk Features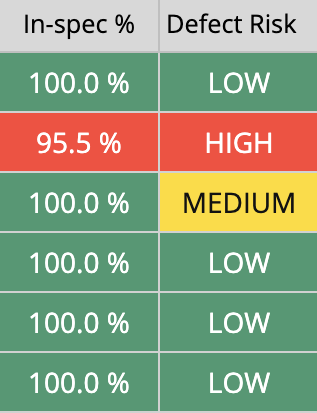 13
Product Traceability
Record Work Order, Batch, Serial Number, Date Code, Operator Name, Gage ID, Measurement Date and Time etc. Retrieve traceability information via powerful search capability. Instantly identify where gages were used.
Work Order / Job Number
Batch Number
Date Code
Serial Number
Cavity Number
Spindle Number
Gage ID
Inspectior Name
Date & Time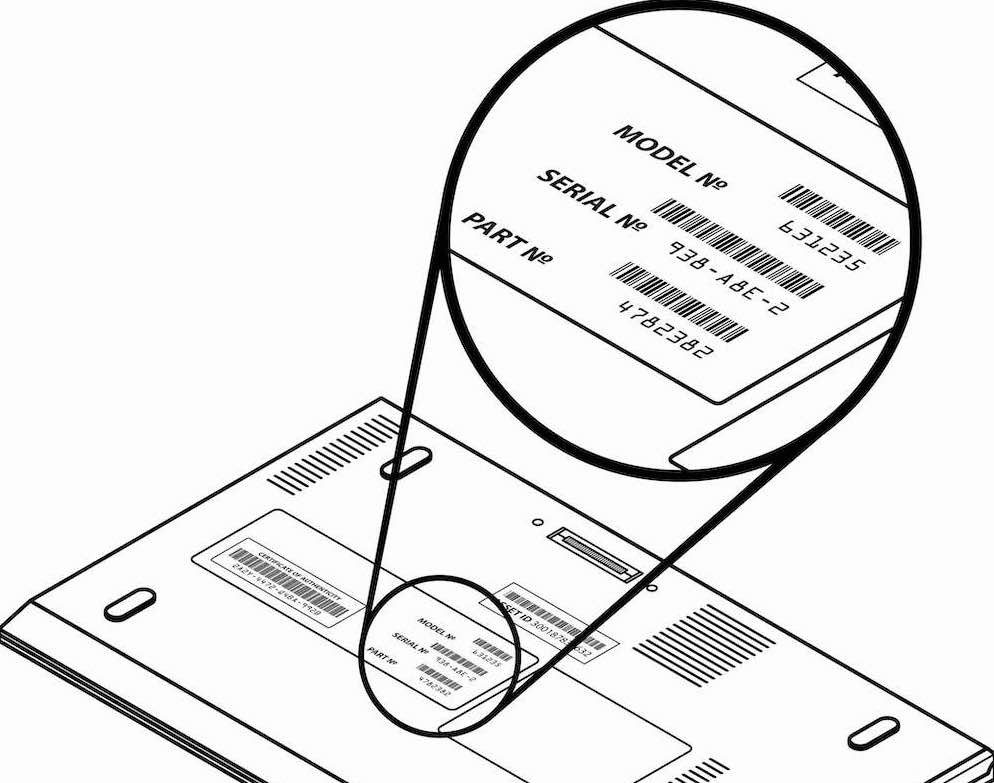 14
NCR, CAPA, SCAR
Record and track all issues including incoming inspection defects, manufacturing defects, field repair problems, customer ocmplaints, deviations etc. Complete 8Ds. Instantly access charts by problem type, root cause, month etc.
Manufacturing Defects
Receiving Defects
Field Issues
Customer Complaints
Deviations
15
Gage Calibration
Maintain a list of Gages with calibration due dates. Capture Gage ID during inspections and ensure that each gage used is actually in calibration. Issue and return gages to departments, people, and work orders.
Gage Make, Model, Serial Number
Calibration Due Date
Link to Inspections
Issue & Return Gages