(Part 3 of 3) Arena Solutions recently spoke with 1factory's President Nipun Girotra to get his thoughts on the world of product design and manufacturing. In this three-part blog post series, you'll discover the challenges facing most global manufacturers and the keys to success.
"Many companies have tried to upgrade their quality, adopting programs that have been staples of the quality movement for a generation: cost of quality calculations, interfunctional teams, reliability engineering, or statistical quality control. Few companies, however, have learned to compete on quality. Why?" Continue reading at Harvard Business Review (HBR)

"Do you have leptokurtophobia? The symptoms of leptokurtophobia are (1) routinely asking if your data are normally distributed and (2) transforming your data to make them appear to be less leptokurtic and more "mound shaped." If you have exhibited either of these symptoms then you need to read this article.?" Continue reading at Quality Digest
"Statistical quality control can effectively control process variation, but it cannot detect or prevent most mistakes. Because mistakes or blunders are frequently the dominant source of nonconformities, we conclude that statistical quality control by itself is not effective." Continue reading at Clinical Chemistry.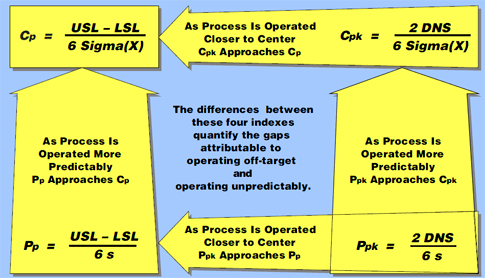 "Based on some recent inquiries there seems to be some need to review the four capability indexes in common use today. A clear understanding of what each index does, and does not do, is essential to clear thinking and good usage. To see how to use the four indexes, to tell the story contained in your data, and to learn how to avoid a common pitfall, read on." Continue reading at Quality Digest
"In this two-part column, I will review the gage repeatability and reproducibility (R&R) study in the Automotive Industry Action Group (AIAG) manual1 for its ability to determine the true capability of different parts of a measurement system. I'll use a geometrical approach to describe the components of the total measurement variance." Continue reading at Quality Progress (ASQ)
"It is important to have a valid quality measurement study beforehand to ensure the part or product is accurate and the power of statistical process control and design of experiments is fully used. Accuracy—in other words, the absence of bias—is the function of calibration, which is performed before the precisions of the gage and its operators are measured." Continue reading at Quality Progress (ASQ)

"Every quality professional is concerned about the improvement of processes. By making processes better, we get less waste, lower costs, and happier customers. Why has it taken so long to understand that processes need analytic methods, not enumerative ones?" Continue reading at Quality Digest