Challenges in Supplier Quality Management: Product and Supply Chain Complexity
The Complete Supply Chain:
A Supply Chain is a series of interlinked processes from purchasing of raw materials, through the completion, delivery and installation of a finished product for an end-user. All intermediate operations such as machining, assembling, testing, shipping, distribution, install & start-up, along with the suppliers, logistics providers, distributors, and retailers that provide the required parts and services, and your own manufacturing plants, are elements of the supply chain.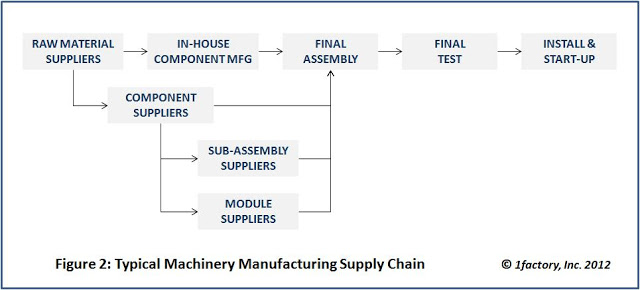 Example: Supply Chain for Machinery Manufacturing
Increasing Complexity In The Modern Supply Chain:
Through the early 1990s, supply chains were relatively simple, supporting the mass-production of a limited range of products, with a significant portion of each product being manufactured in-house.
Since then, in response to evolving market conditions, product and supply chain complexity has grown exponentially. Mass-production, in some cases, has been replaced by mass-customization, and in-house manufacturing has been replaced by a multi-tiered, highly-specialized, globally-distributed supply chain. Manufacturing capabilities that were previously under one roof are now spread across multiple tiers of the supply chain.
Impact of Complexity on Quality:
In this new structure, Tier-0 firms have a limited understanding and almost no visibility into the detailed manufacturing processes through the supply chain, while firms at lower levels on the supply chain have limited visibility to the context in which the final customer uses the product, and as a result may not understand the importance of requested design features.
As supply chain complexity* increases, the ability of a firm to control manufacturing processes across the supply chain diminishes. As a result, a large portion of total defects now originate in the supply chain. In fact, there is a direct correlation between supply chain complexity* and the number of defects observed in a product.
[*Definition: Supply Chain Complexity is a function of many variables, such as, number of products, number of product variants, number of parts, number of bill of material levels, make vs. buy decisions, number of suppliers, number of supplier tiers, geographic distribution of design and manufacturing locations, and number of specialized processes.]
Supply Chain Complexity is the biggest challenge for supplier quality management, and cannot be handled by simply adding more people to your supplier quality organization. Your business processes and IT systems now need to be transformed to meet this challenge head on!
---